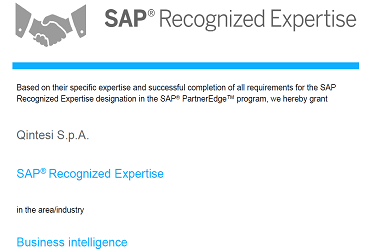 Qintesi recently reached the number of 11 active REX Certifications, namely awards which prove the expertise of its consultants and the references of its Customers on implemented projects. In addition to the 10 SAP REXs already achieved and maintained over time, Qintesi has in fact obtained the REX SAP BusinessObjects Business Intelligence, which qualifies its...
In the November issue of Data Manager, Qintesi has obtained a relevant space in the section "TOP 100: the ranking of software and services companies in Italy". This section displays a Business Card of Qintesi, entitled "Qintesi: reliable partner of smart companies", which explores different aspects of the current reality of the company, starting from...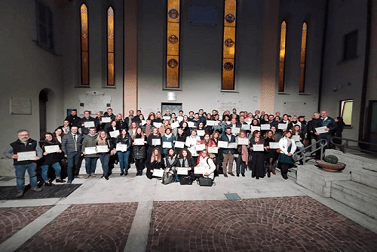 On November 26, the awarding of the companies participating in the WHP (Workplace Health Promotion) program was held in Treviglio. Qintesi then got recognition from the WHP program - coordinated by the Agency for Health Protection of Bergamo in collaboration with Confindustria Bergamo.
Qintesi provides System Integration and Management Consulting services, offering customers innovative solutions. Qintesi is an SAP Gold Partner and Build Partner, and has obtained nine SAP® Recognized Expertise certifications.
Mln Revenue (data of 2018)
Qintesi is an SAP Gold Partner and Build Partner, a consolidated relationship with the common desire to offer services and products of excellence. We work in collaboration with SAP in innovation projects regarding customer business processes.
Qintesi is a consulting company in continuous expansion, that offers great opportunities for professional growth in a dynamic and stimulating environment. Explore the vacancies or submit your spontaneous application.
By continuing browsing the website, you accept the use of cookies. For further information, please read our Privacy & Cookies Policy

Questo sito utilizza i cookie per fornire la migliore esperienza di navigazione possibile. Continuando a utilizzare questo sito senza modificare le impostazioni dei cookie o cliccando su "Accetta" permetti il loro utilizzo.